http://www.oddmusic.com/gallery/index.html
Oddmusic.com was launched in 1999. Initially designed as a small niche site for odd and experimental music lovers, it has far exceeded its original concept, gaining a broad worldwide audience, ranging from musical instrument inventors and musicians, to researchers, educators, students, curious web surfers, and fans of odd music world wide, opening a window to the world of odd, unique, experimental and unusual music and musical instruments.
Oddmusic provides a space where instrument makers, artists and musicians can showcase their inventions and creations, as well as links to other interesting sound and music sites that offer a wealth of information and sound oriented content.
Oddmusic.com has been featured in many newspapers ranging from The New York Times to Australia's biggest newspaper The Herald Sun. The site has also been showcased and spotlighted by Yahoo!, EarthLink, BoingBoing, and many other Internet related organizations, as well as radio and television programs such as Entertainment Weekly. Oddmusic is proud to have also found its way into many schools and learning centers, ranging from kindergarten kids to university curriculums, such as the University of Washington, The Queensland Museum, various virtual campuses, America's Shrine to Music, The Journal of Music, and The National Music Museum. Our goal is to help provide a space to awe and inspire, share knowledge, and hopefully provide a spark in the imaginations of children and adults of all ages.
oddmusic.com contact Information: John Pascuzzi, Orange County, California, USA
Instrument - Description
A HAPI Drum - An easy to play melodic steel tongue drum, inspired by the Hang Drum
Aeolian Wind Harp - Played by the wind; free of the touch of human hands
Amazing Pencilina - Collision of dulcimer, bass, koto, slide guitar
Aquaggaswack - 29 hanging pot lids, a gong tree with a wide sonic palette
Atlantic City Boardwalk Hall Organ - World's largest and loudest musical instrument, 150 tons and 33,112 pipes
Balalaika - 3-string folk instrument from Russia and the Ukraine
Bamboo Saxophones - Sax's crafted by Ángel Sampedro del Rio
Bandura - Ukrainian Bandura by Dwight Newton
Bass Stick - A "virtual instrument" from the minds of Animusic
Bazantar - 5-string acoustic bass -- with an extra 33 strings
Beer Bottle Organ - Instead of pipes, this organ uses beer bottles
Bikelophone - A palette of sonic exploration, with a bicycle hub
Bonang - Javanese Gamelen instrument
Boobam drums - Tubular drums made by Bill Loughborough
Bowafridgeaphone - Iner Souster's collision of refrigerator grates, metal bowls, and strings
Bubble Organ - Unique resonating organ, using balloons, bubbling water, PVC and imagination
Car Music Project - Band that uses musical instruments created from a dismantled car
Celestial Harp - A unique 72-string harp based on the circle, the square and the spiral
Ceramic Musical Instruments - Some of Barry Hall's creations
Chrysalis - Unique instrument designed by Cris Forster
Cigar Box Guitar - Shane Speal keeps the age old tradition alive
Circular Harp - The Circular Harp
Clackamore - Percussive and melody mouth instrument
Contrabass Sax in Eb - Biggest woodwind in the world, a monster
Cymbalom - An old hammered dulcimer with a new twist
Daxophone - Hans Reichel's awesome & innovative musical invention, must hear it to believe it
Didgeridoo - The oldest wind instrument known to man
Didj-Bass Combo - Custom made didgeridoo that wraps around NeaL Brooks' bass
Didjibodhrán - Half Didjeridu - Half Bodhrán
DIJBASS - Andy Graham's Electric bass didjeridu hybrid
Double Violin - Two violins that share a common fingerboard
Due Capi - Two headed wood & aluminum wind instrument
Dulcimer - Stringed instrument from the Appalachians
Electric Bass Kalimba - Catamaran style electric bass kalimba
Electrified Violoncello - From the hands of lutheir Dwight Newton, experimental electric cello
Electric Harp Guitar - Made by Steve Klein for Michael Hedges
Electronic Bagpipe - An analog electronic bagpipe instrument
Elemento - Experimental instruments from Elemento
Sandata ng lolo ni tatay - Experimental instrument by Lirio Salvador
Planet Stainless - Experimental instrument by Lirio Salvador
Sandat 3RB - Experimental instrument by Lirio Salvador
E-Sitar - 17-string sitar neck on an electric guitar body, an electric sitar
Excedrin Thumb Piano - Tiny Thumb Piano by Bob Collier
Fences - Violinist Jon Rose plays fences with his bow
Fiddle-dee-doo - Globu-tubular horn with goatskin resonator
Fire Organ - A thermoacoustically controlled pyrophone organ
Fluba - One of a kind tuba-sized flugel horn
Former Guitars - Modified, decontextulalized or completely new
Freenotes Instruments - Easy to play Gamelan inspired instruments
From Scratch - A few of the instruments of "From Scratch"
Gas Tank Orchestra - Yes, the instruments are made of old gas tanks
Giant Tuba - The giant tuba has over 34 feet of tubing and is nearly 8 feet tall
Glass Armonica - One of Ben Franklin's favorite inventions
Gongs - Gongs made from found steel plates
Gravikord -The unique electro-acoustic double harp
Guitar Bass - 10-string Guitar / Bass instrument
Guitar Machine - Guitar, bass, and more, played with the feet
Guitarangi da Gamba - 30-string guitar/sarangi/viola DA gamba thing
Guitarpsichord - Part harpsichord, Part guitar, classical guitar strings played by a keyboard
Guitorgan -Univox "Effie" guitar infused with Organ parts
Hang (Hang Drum) - Pronounced like "Hung" or "Hong" the Hang is played with the Hands

Hank Drum - Invented by Dennis Havlena, made from a propane tank, inspired by the Hang Drum
Harmonic Generator - 64 strings, 32 spinning motors, a keyboard, and a lot of heavy metal
Harmonic Guitars- Experimental guitar-like instruments
Harp Guitar- Part guitar, part bass, part harp
Harp-Kora- Double-sided harp, strung and played like a Kora
Harp Mandolins - Honey, I shrunk the guitars!
Harpouditar - A 26-String Guitar / Oud / Zither
Hmong Harp - Double-tongued ethereal brass mouth harp
Horns by Tommy DOG - Uncommon horns made from common materials
Huaca -Multi-chambered pan-cultural clay vessel flute
Hybrid Strings - Hybrid stringed instruments by artist Ken Butler
Imratgitar - 20-string instrument combining guitar and sitar
Incantor - Hand art Incantor by Q. R. Ghazala
IT - Experimental stringed instrument by Dana Flavin
'Jomama - A fretless baritone 5-string banjo sculpture
Juggernaut (Washtub Bass) - Unusual Washtub Bass instrument by Isaac Bassard
Kaisatsuko - 2-string unique oriental fiddle with Hurdy Gurdy-like hand crank
Kazoo - The kazoo is a type of mirliton, which modifies the sound of a person's voice by way of a vibrating membrane.
Kestrel 920- Subharmonic omnivibrational microtonal sound sculpture
Koralimba - Kora inspired double sided electric kalimba
Knutsen instruments - Some rare creations of the late Chris Knutsen
LEGO Harpsichord - Harpsichord made of over 100,000 LEGO's
LightHarp - An electronic Harp that uses lights and lasers to trace strings through space for performers to play.
Lumberhorn - An ugly Hillbilly bass evolves into to a less ugly one, and we love it
Madame Chiouque - 6-string hybrid that also produces sine waves
Maui Xaphoon and Pocket Sax - Small portable, flute-like in appearance, sax-like in sound, pint sized powerhouse
Moodswinger - Unique electric microtonal zither-like musical instrument
Multinecked Guitars - Creations from spare guitar parts by Claudio Fritschi
Musical Saw - The evolution of the wood cutting saw, turned into a musical instrument
Nano Guitar - World's smallest guitar, the size of a human cell
Native American Style Flute - The song flutes of the Native Americans
Nondo - Steel sheet strung lengthwise with music wire
Octavator - Hybrid keyboard/stringed audio visual instrument
Optivideotone - Optical Theremin that responds to videotape
Oracle - A 24-string Harp-Sympitar
Palm Frond Stringed Instruments - Unique stringed musical instruments made from Palm Fronds
Pikasso - Four necks. Two sound holes. Forty-two strings
Riday T-91 Midi Controller - Uses identical fingering patterns for all 12 scales
RingFlute - Circular flute invented by James Johnson
RidgeBow - A reeded mouthbow by Wayland Harman
Rocket Launcher - Electric stringed instrument made of junk
Rumitone - A tubular bell, sit-and-spin sculpture
Samchillian Tip Tip Tip Cheeepeeeee - MIDI controller based on changes of pitch
Sarrusophone -Gigantic keyed brass wind instrument
Scrap Arts Music - Hyper-kinetic scrap metal ensemble
Sea Organ -The worlds first pipe organ that is played by the waves of the sea
Sequential Resonation Machine - Simple and beautiful sequencer, using pipe resonance to produce pitch
Serpent -Invented in the 1500's, bizarre & snake-like
Serpentine Bassoon -electroacoustic double reed instrument that controls effects machines and synthesizers
Seven String Resonator - Custom resonator guitar with unique 7th bass note
Shakuhachi Flute- Endblown Japanese bamboo pentatonic flute
Sheet Metal Band - Instruments crafted out of sheet metal and scrap metal
Shruti Stick - 12 string creation inspired by the 22 note octave used in Indian music
Singing Stones - 100 river rocks suspended by music wire from a wing-shaped sound box
Skatar -Guitar and bass made out of a skateboard
Stalacpipe Organ - An organ that plays 3 1/2 acres of stalactites
Stamenphone - A musical sculpture by Ela Lamblin
Steve Wishnevsky Basses - Custom bass creations by Steve Wishnevsky
Stoessel-laute - Part Lute - Part Zither
StringStation - 40 strings of sonic wonder by Jim Bartz
Stroviols Ukulele - Mechanically amplified string instrument
Surba-Half - A half-sized Surbahar, a brother of the sitar
Swagerty Ukulele's - Crazy uke's from the late 1960's, surfs up dude!
Symphonic House - Symphonic House explores the creation of architecture as a musical instrument
Symphonium - Philippe Bataille's crazy portable one man band
Theremin - One of the earliest electronic instruments
Theremin Cello - Extremely rare instrument invented by Theremin
Tamburitza - Fretted steel stringed acoustic from SE Europe
Tannerin -Best described as a type of Slide Theremin
Trimeister -Guitar, mandolin and fiddle, all rolled into one
Triolin -Bowed instrument creation by Hal Rammel
Triple-neck Guitar - A "virtual instrument" from the minds of Animusic
Trongos - 3 joined water drums of stainless steel & bronze
Trump (Jaw Harp) - One of the most ancient musical instruments
Trylon -Aluminum, steel, brass, wood, amplified harp
Tsabouna -Lively sounding wind instrument from Greece
Uberorgan - Several bus-size biomorphic balloons comprise this 15,000 organ
Uncello -Just like a cello, only completely different
Vienna Vegetable Orchestra - A 10-member orchestra that plays instruments made out of fresh vegetables
Violimba - Eerie bowed instrument by David Bellinger
Waterphone - Haunting creation invented by Richard A. Waters
Weather Harp - Wind operated, resonator harp, a product of its design and the wind
Wheelharp -Beautiful unique creation inspired by the Hurdy Gurdy & Geigenwerk
Windform -A 20-foot long playable horn, built of leather
At the site you can view and hear most of these instruments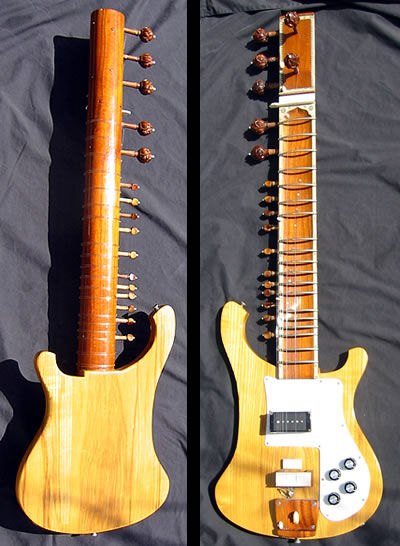 E-Sitar
A 17-string sitar neck, attached to a custom made electric guitar style body. All regular and sympathetic strings are steel, so that the sound can be amplified by the magnetic pickup system. It is played like a standard sitar, as the design puts the instrument in the correct playing position while strapped on, allowing the player freedom of movement.
Modeled along the lines of a Rickenbacker 4001-V63 bass, it is built from an assortment of salvaged sitar parts. The body is cut from a piece of ash wood. The neck is dove-tail joined to the body leaving a slight elevation for string clearance. The pickup is by Seymour-Duncan and is their version of a Fender "Jazzmaster" design. This is the only pickup with magnetic poles shallow enough to fit in between the two string layers. It was necessary to angle the pickup position to allow for string placement along the raised frets. the "taraf" (bottom) bridge was then angled so it's string set would sit parallel to the under side of the pickup. Master Sitar and Tabla repairman Tony Karasek designed this hybrid in 2003. A disciple of sitar guru Ravi Shankar, Tony toured with Ravi from 1996-2000 as a Tanpura player and also works on Ravi's instruments. Tony has moved to India to set up a custom sitar business, to facilitate high-quality sitar production in India again, which has been mostly lacking. He merges the best aspects of the many sitars he has come across, along with the finest materials and craftsmen.
Visit Tony's website at
karaseksound.com
Listen to a sample of the E-Sitar



Posts

: 87


Join date

: 2010-09-19


Age

: 57


Location

: misery





Similar topics
---
Permissions in this forum:
You
cannot
reply to topics in this forum