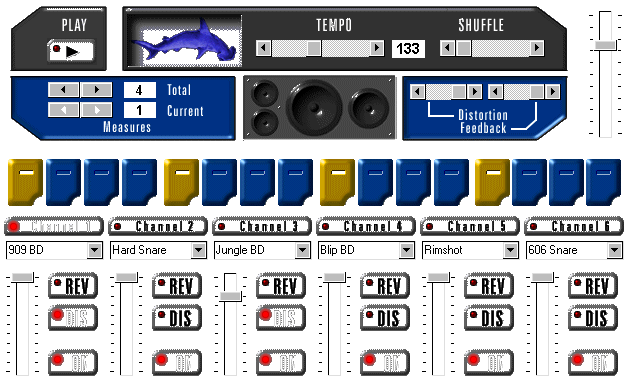 http://www.threechords.com/hammerhead/
WHAT IS HAMMERHEAD?

HammerHead is a simple TR-909-like drum computer program aiming at the dance-scene. You can use it to create perfect Techno loops, Jungle patterns or House beats, but it's also suitable for Hip Hop, Triphop, Rap, Industrial and almost any other music you can think of.

HammerHead features six separate channels, 29 built-in drum sounds, six complete breakbeats and the possibility to import six samples of your own. You can save your patterns to completely noise-free CD-quality wave files to use them with your sampler, tracker or sequencer program.
If you have been convinced of the coolness of HammerHead Rhythm Station, it's time to to download.
Installing HammerHead is extremely easy, just run the .exe file and the program will guide you through the installation process.
Don't forget to return to this page when you've tested the program and add your comments, good or bad (see link at the bottom of this page).
More free music softwares available on the
Useful Apps and Utils page
.
Note: Lately we have been getting reports from people who are having problems downloading the program from our server. If you experience any trouble, please use one of the
alternative download sites
. System recommendation:
# Pentium 90 MHz with Windows 95/98/NT/2000/XP/Vista
# 16 Mb RAM
# 16 bit soundcard.
- Download size: 1.47 Mb
- Unpacked size: 2.13 Mb
SAMPLES
http://www.threechords.com/hammerhead/userbanks.shtml
"HammerHead for DOS"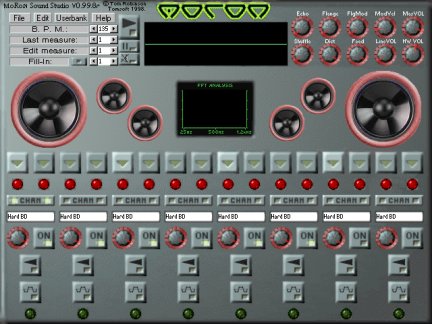 Moron Sound Studio is a software drum machine for DOS (also runs under Windows) that is very similar to, and fully compatible with, HammerHead Rhythm Station. HammerHead patterns and userbanks can be loaded, edited and saved in Moron as well as Moron's own format. Moron Sound Studio also has a few additional features that HammerHead doesn't, like real-time echo and flange effects, a built-in dynamic userbank editor, a neat fill-in function and two extra channels (you can never get too many of those).
The biggest drawback of this software is the somewhat crude and hypersensitive controls. Small things like that a channel isn't automatically activated when you change the drum for that channel will drive anyone used to HammerHead nuts. Another thing is the stream to disk feature, wich is much more limited than HammerHead's. The saved .wav's don't seem to be quite as clean as HammerHead's either.
I couldn't get this thing to work in anything but full screen mode, and that's something you don't want when you have a 21" screen. In any case, if you're using Win 95 or 98 (couldn't make it work on NT), I definitely recommend that you run Moron in MS-DOS instead of a window.
This is, however, just a beta pre-release, and with a little luck (and the programmer's hard work) this may very well turn out to be the "HammerHead 2" everybody is waiting for. The author promises to include a tracker and a real-time analogue-synth sequencer in the future, which would make this software really interesting.
This beta version is freeware, but I beleive the final version will be shareware. It does not quite match HammerHead yet, but it's well worth downloading and playing around with for a while. If you for some reason are still running DOS or Windows 3.x, there's no question about it; you've got to have this software!
HotStepper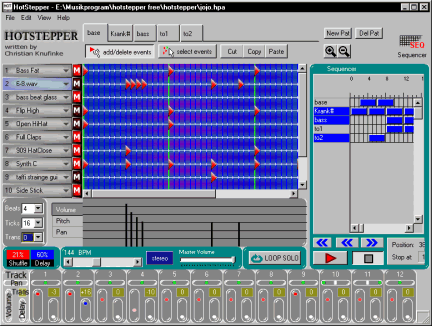 http://www.threechords.com/hammerhead/hotstepper.shtml
Hotstepper is a 12-channel drum sequencer for Windows that's packed with a lot of nice features. Full review coming shortly.
Features:
* Adjustable velocitiy and pitch for every event
* Up to 12 different sounds can be used simultaneous
* Adjustable velocity, delay, panorama position and pitch for every sound
* Adjustable pattern size and resolution (triple, quarter)
* Import wav files (10 second max, 44.1kHz, 16-bit, mono only) into the sound libary and select start and end sample points
* Export drum patterns as Windows PCM (*.wav) files
* Delay control so you can define the amount of the delay and adjust feedback
* Shuffle control for adjusting the type of shuffle and its intensity
* Organize patterns into a song (only one pattern may play at once)
* Wave Stretching allows you to define sounds that will be stretched automatically to the length of the beat
* Sounds can cut-off other sounds when started (ie. Closed HiHat stops Open HiHat)



Posts

: 87


Join date

: 2010-09-19


Age

: 57


Location

: misery





Similar topics
---
Permissions in this forum:
You
cannot
reply to topics in this forum